This card features the versatility of the Docrafts Brickwork Background Stamp. These three Katzelkraft Penguins with their disgruntled faces totally crack me up so I thought it would be fun to play with them and the Docrafts Brickwork Background Stamp to create a shaped card that would harken to an igloo home for them.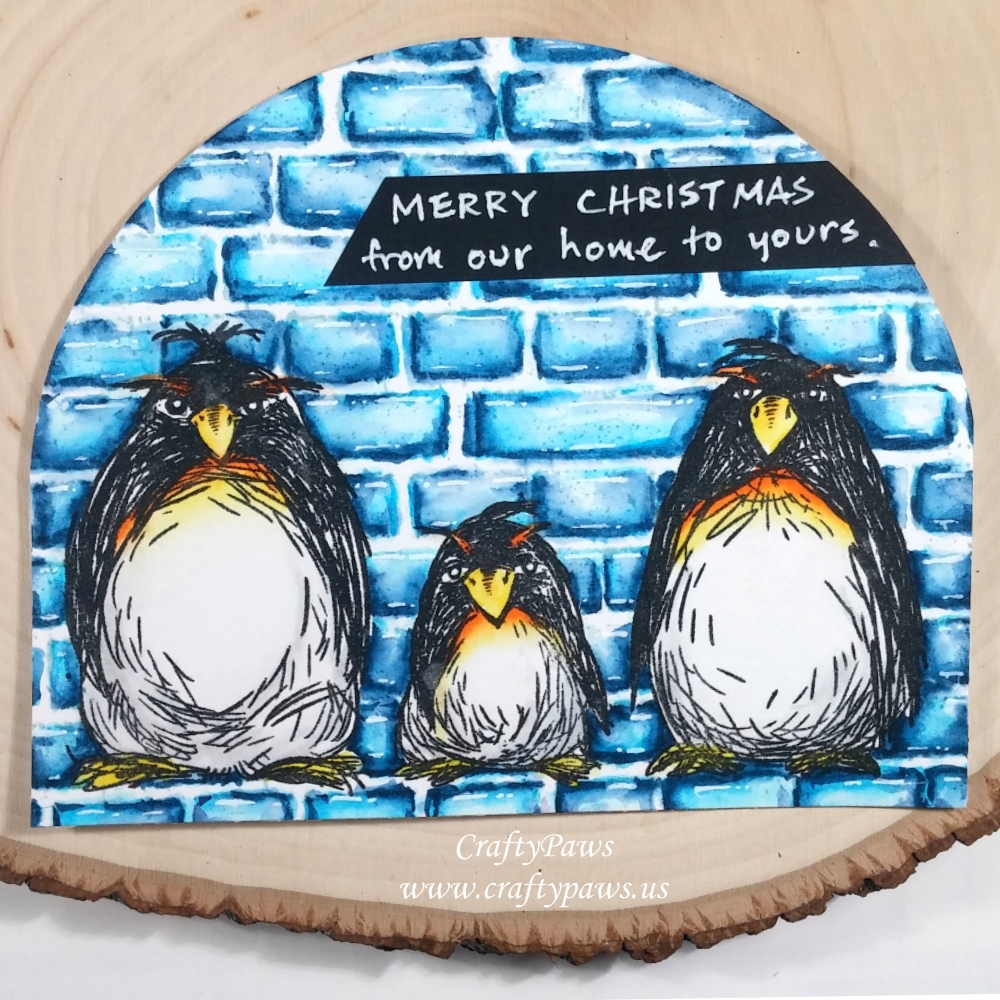 I started out with Strathmore Bristol Paper for the card front and stamped out the penguins using VersaFine Onyx Black Ink (which is water-safe for watercoloring). Then I used Winsor & Newton Art Masking Fluid and covered them up with an old synthetic paint brush that I had first coated with a little bar soap (this helps prevent the masking fluid from permanently sticking to the bristles and makes clean up easier). I waited until the fluid was dry to the touch (about 5 minutes) before moving on to the next step.
To stamp out the Docrafts Brickwork Background Stamp, I decided to use a blue ink so that the bricks would look more like ice blocks and less like bricks. Then I used Zig Clean Color Real Brush Markers in Cobalt Blue (031) and Peacock Blue (038) to watercolor in the blocks. For an even more icy look, I used a Uni-ball Signo White Gel Pen to add highlights on all the blocks.
I then used the soft part of my finger to rub off the dried masking fluid. I was careful not to scrape with my fingernail or press too hard because I didn't want the masking fluid to take off any of the paper, and luckily it came off really easily.
Then it was a matter of just adding some colorful details to the penguins. I used Yellow (050) and Orange (070) to add some brightness to their eyebrows, beaks, feet and bellies. Then for the shadowed lower and sides of their bellies, I used a Light Gray (091), which I think added a more rounded, dimensional look to the penguins.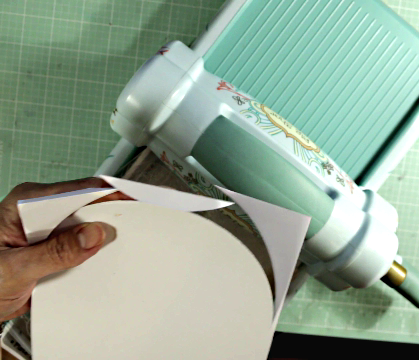 To made the background look even more like an igloo, I decided to make this into a shaped card. I used a large circle die and cut the top half of the circle from the card front top. Then I took a piece of white cardstock, scored and folded one side about 1/4" down and put that folded side just under the circle die and ran that through my die cutting machine half way down too; this forms the card base back. For both the card front and the card base back, I trimmed the sides straight down from where the half circles left off. This created an arched, or igloo, shape. I glued the two sides together at the tab that was created by doing the 1/4" fold with Art Glitter Glue. I know reading these instructions can be a little unclear, so if you want to see all of this, the video below walks you through the whole process in detail.
Lastly, for the sentiment, I simply used a Uni-ball Signo White Gel Pen to hand write a little sentiment that reads, "MERRY CHRISTMAS from our home to yours." I love the juxtaposition of the grumpy faces of the penguins with this super cheery sentiment. LOL
The following is a start to finish video of creating this card:
https://www.youtube.com/watch?v=hqwCoPbJb7w
Thanks for joining me today for this funny Christmas card!