Ugly Sweater Front and Back Ornaments
Posted by Kristina Song on
Have I told you too many times how much I LOVE the Maymay Made It Ugly Sweater Weather stamp set?! I love it so much that I decided to make a little two-sided Christmas ornament of my two pups, Biscuit (a Miniature Poodle) and Bandito (a Havanese) using the sweater from the Maymay Made It Ugly Sweater Weather stamp set and the poodle and what is probably a terrier (but I colored it up like my Bandito) from the Avery Elle More Furry Friends stamp set. I stamped out the pups on one sweater and then I stamped out the poodle and just the outline of the terrier on another sweater so that I could make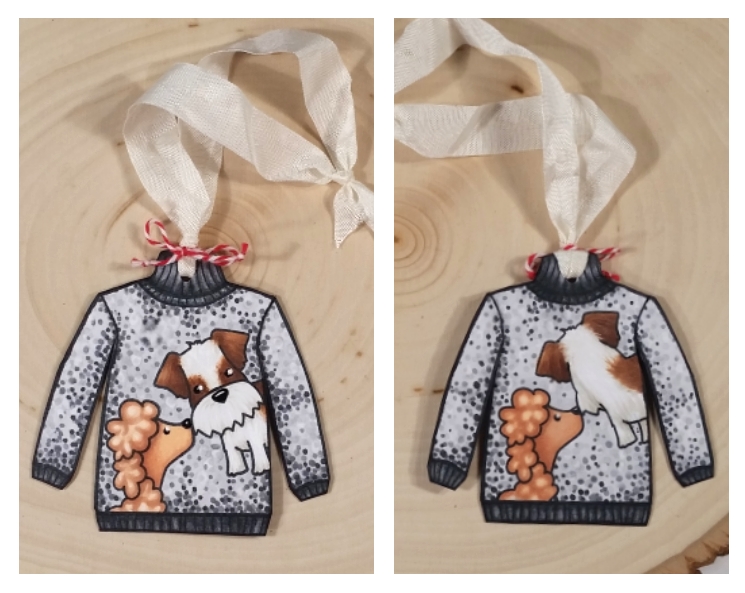 this second sweater the back side of the sweater. However, because the left and right side of the sweater is not exactly the same, I had to do a lot of cutting apart and re-assembling together to make the front and back sweaters fit together without a lot of mismatched areas.
So for my second try, I decided to stamp out the sweater and then scan it into my computer and reverse the image (simple how-to with Microsoft Word is included in the video above). Now I knew I could sandwich the back sides of the 2 sweaters together and they would fit perfectly! I fussy cut out the reverse image sweaters and inked the edges for a clean look with a Tuxedo Black Momento Marker. For this second ugly sweater, I used one of the disgruntled kitties from Katzelkraft and stamped the front of it on one sweater and just the outline of it on the second sweater (easy how-to alter stamp by wiping away details for backsides – this is in the video above too).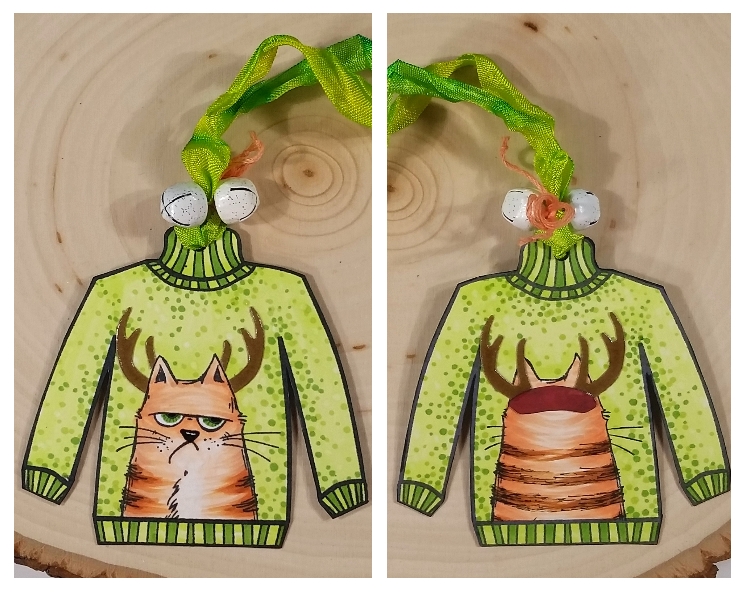 For this kitty sweater, I used the following Copic colors:
Kitty: E00, 02, 11, 97 and 99 with YG17 eyes and Distress Marker eye flecks in Mowed Lawn
Sweater: YG01, YG03, YG17, and 0 colorless blender
Then I used a bit of hand dyed seam binding to create a hanging loop through a 1/8″ hole punched through the top of the sweater neck and a bit of tangerine-colored embroidery thread to tie on a couple of jingle bells on a bow. To give this kitty a reason to be disgruntled, I decided to add an antler headband to him. I punched out a set of antlers from an EK Success antler head and cut around the antler pieces to fit around the front of the kitty. I repeated the punch out to add the fuller antlers to the back side of the kitty and hand fussy cut out a little red scrap of paper to give the look of a simple headband. To add a bit of shine and finish off this funny ornament, I topped all the antlers with Glossy Accents.
Remember to head on over to our Facebook group Maymay Made It and So Did I and post your creative version of this project. 
---
Share this post
---
---
---